Making the Grade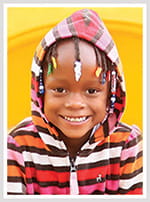 Jene'ya kneels down to straighten her daughter's shirt out a bit. Jy'rah looks around, eyes wide, and reaches for her mom's hand. It's the first day of preschool, and everything seems too big, too loud and too unknown.  
For kids like Jy'rah, the first day of school can be nerve-wracking, but it's also an exciting milestone. For parents, it's a time of worry and pride as their little ones venture out in the world without them.
For the experts at Cincinnati Children's, it's a chance to help some of the most disadvantaged kids in Cincinnati.
Healthier Kids, Healthier Communities
Even though Cincinnati has some of the best health, academic and social service agencies in the nation, many of our kids and their families are suffering – especially those in at-risk, low-income neighborhoods.
In those communities, infant mortality is high, school readiness is low and visits to the hospital for preventable illness and injury are frequent. Poor housing conditions exacerbate chronic health conditions like asthma, and many families lack the resources to offer a safe and nurturing home life that will provide the foundation for their children's future success.
"Child health goes beyond our doors – for kids to be healthy, they need thriving families, strong educational opportunities and safe homes," says Rob Kahn, MD, MPH, Physician Lead, Community and Population Health, at Cincinnati Children's.
His eyes light up – this is his passion. "Our goal is to help kids be healthy and safe and ensure their families have the resources they need to keep them that way – impacting generations to come. And we're teaming up with community partners to do it, neighborhood by neighborhood."
Meeting Kids Where They Are
For many families in the most at-risk neighborhoods, accessing quality healthcare for their children can be a challenge. Lack of transportation, difficulty scheduling appointments and other barriers mean that regular access to care is nearly impossible to achieve. Moreover, access to dentists, optometrists and other important services can be a challenge.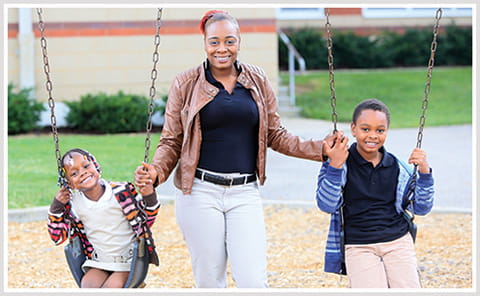 When Jene'ya lacked transportation, she didn't have to worry about her kids getting the healthcare they needed, thanks to Cincinnati Children's school-based health center at South Avondale School.
So we asked ourselves: How can we better support efforts to bring the needed care to the kids? And that's where school-based health centers come in.
Housed within the school building, these health centers are staffed by nurses and nurse practitioners. They provide routine vaccinations, health checks, eye care, dental care, monitoring of chronic illnesses like asthma, health education and mental healthcare. They even help parents complete all the necessary paperwork for school enrollment.
Since children are already attending the schools, the clinics give parents a one-stop shop for accessing high quality healthcare – and a close resource to help them manage their child's health.
"It was a lifesaver for me," says Jene'ya. "I didn't have transportation at the time, so getting my kids to the doctor to get their shots and school paperwork completed was a real worry."
Jene'ya and her family live in Avondale, one of the neighborhoods Cincinnati Children's is initially targeting with improved community health initiatives, including staffing the school-based health center there. Because her daughter was enrolling in preschool at South Avondale School, Jene'ya was able to get both of her kids' healthcare needs taken care of in one place. "It was all right there for me at Jy'rah's school," she says with a smile. "The nurse also helped me understand my son, Jy'aire's, asthma and gave him treatments to help him breathe better. She gave my children all of their shots and helped me get all of their paperwork for school done. It was so helpful."
In partnership with the Cincinnati Public Schools, Cincinnati Children's currently runs school-based health programs within three schools – South Avondale School, Rockdale Academy and Hughes High School. But helping kids be healthy isn't the only benefit.
"Kids who are healthy are more engaged, more focused on their learning," says Michael Allison, principal of South Avondale School. "We have seen an overall boost in our test scores, and that definitely equates to having a healthier population that's more focused in the classroom."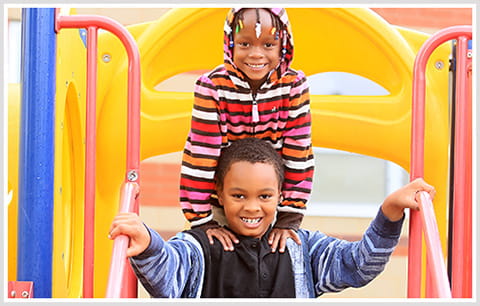 School-based healthcare helps kids, like Jy'rah and her brother, thrive in the classroom and beyond.
Providing More Than Medicine
While meeting kids' medical needs in schools is critical, it's only part of the solution to improving the health and lives of our community's children. Kids have a better chance to get and stay healthy if their parents also have access to care and resources to meet their own health, educational and career goals.
That's why, in partnership with donors, Cincinnati Children's is working to improve support for families. And the place to start is in our Pediatric Primary Care Center (PPCC).
Located on our Burnet Campus, the PPCC offers primary care for more than 18,000 low-income children each year. The families of these children often struggle to meet basic needs because they lack adequate resources and strong support systems. Moreover, the resources they need are often scattered among different agencies – making them difficult to access for families who lack transportation.
Earlier this year, with the help of a generous gift from the Cincinnati Reds and Major League Baseball (MLB), we transformed the waiting room of our PPCC into a vibrant community resource center to help both kids and parents.
"Together, we created a one-stop service center for families. We added iPads with the ability to learn directly about local resources, like Legal Aid or housing, and hired a staff person who lives in Avondale and is well-versed in community help," explains Rob Kahn. "It's a simple, effective way to help families. They're already here – we just put access to community help right at their fingertips."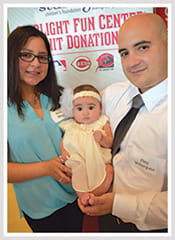 Take, for example, Rey and his family. When his daughter was born, their pediatrician at the PPCC referred the family to Legal Aid for assistance in obtaining health insurance.
"Two days after we talked with the doctor, we got a call from Legal Aid," Rey says. "And two weeks after that, we had our insurance cards." Because their doctor cared enough to ask about their situation outside of the medical center, they were able to get the help they needed.
"Sometimes you don't know where to start," Rey says, while sitting in the new waiting area. "But now, families that come to the PPCC will know where they can get help. It's right here in this very room." Pictured Above: The Valezquez Family.
The Healthiest City in America
Right now, too many of Cincinnati's children have tremendous barriers to health. But, Cincinnati Children's has our eye on the prize – a community where every child, regardless of socioeconomic background, can thrive and be healthy.
Community partnerships are a key part of this effort – from the public schools to Legal Aid – Cincinnati Children's is collaborating with other experts, organizations and donors who are committed to helping the children of Cincinnati become the healthiest in the nation.
We invite you to be a part of these efforts. To learn more, contact Karen Ecker Kratz at 513-636-5683 or karen.kratz@cchmc.org.
Encouraging Healthy Choices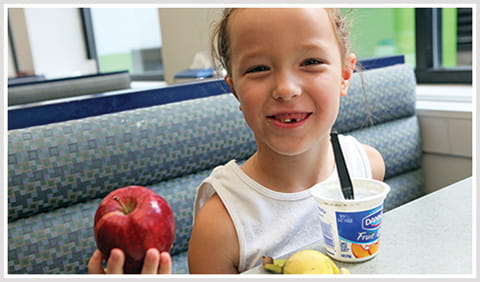 If McDonald's can do it, so can Cincinnati Children's. A study led by our experts found children are more likely to choose a healthy lunch when rewarded with a prize, like stickers or small toys.
Within the Cincinnati Public School (CPS) system, three out of four students qualify for the free or reduced cost lunch program, which means most of the students primarily get their meals from the school cafeteria.
However, that doesn't mean they are getting healthy meals. School cafeterias offer a selection of foods – ranging from healthy choices like fat-free white milk and vegetables to unhealthy choices like chocolate milk and potato chips. Left to their own devices, many kids chose the unhealthy items, putting themselves at risk for obesity and related health problems.
That was, until, Robert Siegel, MD, medical director of the Center for Better Health and Nutrition at Cincinnati Children's, asked a simple question. "If McDonald's can offer prizes to encourage purchasing Happy Meals, could we use prizes to help kids select healthy foods?"
To test this hypothesis, Dr. Siegel and his team launched a pilot project at a CPS school, involving 297 children. The project placed green smiley-face emoticons by the most nutritious foods in the school cafeteria, and then offered the children prizes such as pencils, erasers and stickers for selecting a healthy "Power Plate" – a lunch that included at least four green-stickered components: entrée, fruit, vegetable and low-fat milk.
The study was a resounding success. "After three months, there was a 335 percent increase in selection of the Power Plate," Dr. Siegel's eyes shine. "It's such a simple and cost effective solution to help kids choose healthier meals. Healthier meals mean healthier kids. Healthier kids do better in school. It's a solution that has the potential to have a positive, lifelong impact on these children."