Center Aims to Prevent, Understand Preterm Births
About 12 percent of pregnancies, or one in eight infants, deliver early in the United States every year. Babies born prematurely are at risk not only for death, but also for many severe and chronic medical disorders, including brain damage, lung disease, intestinal injury, blindness, hearing loss, cerebral palsy and failure to grow.
The Center for Prevention of Preterm Birth at Cincinnati Children's is on a mission to stop such early births from occurring in the first place. Center director Louis Muglia, MD, PhD, and his team will identify and address causes of preterm birth, from the molecular pathways that affect the timing of birth to the epidemiologic trends influencing pregnancy.
Trends in Rates of Preterm Birth in the United States and the 2020 Goal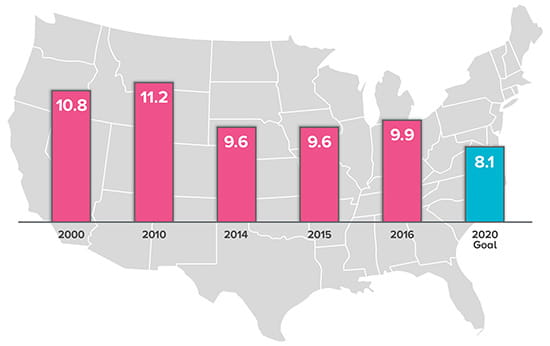 Premature birth ranks as the leading cause of infant mortality in the United States. Preterm birth rates in America exceed most other developed nations. And despite our improving technology, the actual cause goes unexplained in as many as 50 percent of all preterm births.
The frequency of prematurity and its severe consequences have prompted national calls for action:
Learn more about how we are working with local and state groups to make progress in understanding and preventing prematurity.