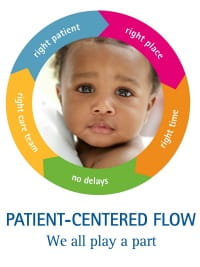 At Cincinnati Children's, we believe that our ability to deliver ideal care to our patients is inherently linked to capacity management.  Using operations research and improvement science principles, we are creating a delay-free system of patient-centered flow that puts the right patient, in the right place, at the right time, with the right team. This approach is not only a foundational building block of safe patient care, but also greatly improves our patients' experience. It is the reason that capacity management is a systemwide priority at Cincinnati Children's. 
The need to focus on capacity management became clear as Cincinnati Children's grew from a community hospital to a medical center providing varied levels of care.  When we began the work, our focus was limited to creating open beds to put patients in − a common problem across all hospitals. 
As our thinking evolved, we came to realize that capacity management was the key to predicting and planning for a broad set of current and future needs, and that it would allow us to use resources to maximum efficiency, improve outcomes and deliver care at a better value.  Above all, we realized that without fixing the way patients flowed through our system, we would not be able to provide the ideal, safe care and patient experience that we are committed to as an institution.   
On the "Daily Operations" and "Planning for Growth" pages you will find information about how we organize daily work and plan for the future. We included data to show what we have achieved and where there is still work to be done.