Helping Children with Colorectal Issues
Mwanza, Tanzania
By Jason Frischer, MD
With the proper medical intervention, the vast majority of children with colorectal issues can live fulfilling lives.
In Tanzania, one of the largest and poorest east African countries, there seems to be a high incidence of colorectal problems, yet they don't have the infrastructure and training to care for them.
Therefore, life is different for these children. They don't receive the proper medical treatments and are subsequently shunned from their community. As a pediatric colorectal surgeon, I continue to feel impassioned to do something about it.
This past fall was my third mission trip there. We assembled a medical team of 11 professionals from Cincinnati Children's and partnered with a nonprofit called Mending Kids – to help them.
Our goal isn't only to perform life-altering surgeries, it's to train the medical professionals there to do the procedures with the tools that they have. That way, they can continue to help these kids long after we're gone.
During our most recent visit we saw 31 patients in clinic and performed surgery on 17 children from as far as Kenya, Uganda, Rwanda, and Ethiopia. Throughout the week-long trip we focused on colorectal issues, but performed whatever procedures they needed.
It's exciting for me to see the progress these patients have made – some of them continue to come back each year. We like to check in and make sure that they're doing well.
One patient who stands out to me from our most recent trip is a girl named Doricus. She's four years old and was born with a cloaca, when the rectum, vagina and urinary tract are one channel instead of three. Doricus also was born with a duplicated anus, two vaginas and a shortened urethra.
Her doctors created a colostomy to pass stool out of her body and into a bag, and that was it. Because of this, she wasn't allowed to attend school and was homebound.
We performed a posterior sagital anorectal vaginal urethral plasty to correct the cloaca, and reconstructed her rectum, vagina, and urinary tract. This is a procedure that allows us to reconstruct her anatomy so that she has one urethra, one vagina and one anus and rectum.
On our next mission trip we plan to remove the colostomy bag and anticipate that she will be able to attend school. Doricus continues to thrive and is extremely excited about the potential to attend kindergarten. What was most memorable about her wasn't just the favorable outcome – it was her infectious smile. Despite her condition and the inability to be with kids her age, she was a delightful, happy kid.
The trip to Tanzania is one of the most rewarding things I get to do as a colorectal surgeon. Impacting global health is an important part of our mission and we see these visits as a way to contribute directly to that goal.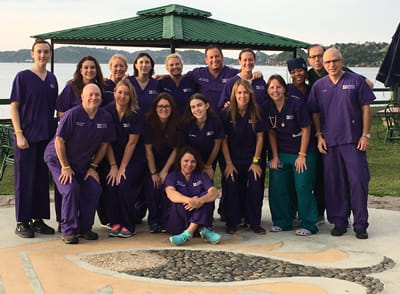 Members of the 2016 team:
Colorectal surgeons: Jason Frischer, MD, Beth Rymeski, DO
Anesthesiologist: Paul Samuels, MD
Nurse Anesthetist: Molly Lierman
Radiologist: Steven Kraus, MD
OR Staff: Sarah Ross Tolin, RN, Samantha McGraw, and Ebony Gray
Nursing: Monica Holder, RN, Patty Kern, RN and Laurie Rosendahl, RN
Volunteer Members of 2016 team:
Lynne Friedman
Ian Friedman
Gaby Morgerman
Dulcie Morgerman