Meet Our Colorectal Specialists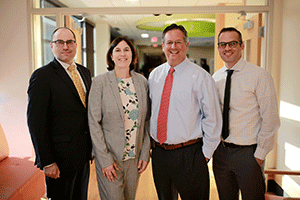 The Colorectal Center at Cincinnati Children's is home to specialists with a wide variety of backgrounds and areas of focus. This diversity allows us to be better prepared to care for your child's unique needs. Learn more about our staff.
Pictured in the team photo (from left): Nelson G. Rosen, MD, Beth Rymeski, DO, Jason S. Frischer, MD, and Aaron P. Garrison, MD.