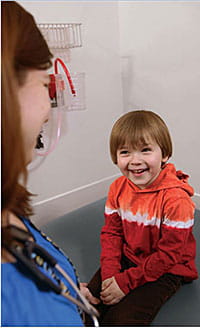 The CHECK (Comprehensive Health Evaluations for Cincinnati's Kids) Foster Care Center is here to help with the medical needs of your child during a time of transition.
Our clinicians are dedicated to helping families by taking a multidisciplinary approach to providing diagnostic and therapeutic interventions to meet the unique medical, dental, behavioral and mental health needs of children in foster care and kinship care in Greater Cincinnati.
The CHECK Foster Care Center is headed by medical director Mary Greiner, MD, MS, an associate professor of pediatrics in the Division of General and Community Pediatrics at Cincinnati Children's.
Clinical services are provided by Greiner, Megan Hennigan, MD, Eunice Blackmon, MD, Julie Dversdall, MSN, APRN, CPNP, and Emily Harris, MD, at the Cincinnati Children's Main Campus and the Liberty Campus.
Patient representatives Janae Lucas and Jeanette Williams as well as social worker Tiffany McDonald assist clinicians and families with obtaining medical history, scheduling specialty appointments and locating and establishing continuity in pediatric care for your child.