Our Fellows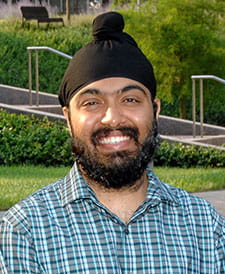 Akaljot Singh, B.A.
Hometown: Youngstown, Ohio
Undergraduate: Columbia University, New York, NY
Major: Neuroscience & Behavior
Aklajot "AJ" Singh discovered his passion for research after taking a course in Developmental Biology at Columbia University during his sophomore year. So inspired by the idea that, "researchers were attempting to construct entire organs for transplantation out of cell cultures," he joined the lab of Dr. Gerard Ateshian to study the growth of artificial cartilage.
With his new enthusiasm for research and his existing interest in medicine, he realized that pursuing an MD/PhD would be the perfect marriage of the two. AJ recognizes that an MD/PhD "permits me to promote wellness on a larger scale, as I hope that it will have a global impact on patient care…The dual degrees would position me well to lead a research team that would be capable of bridging the gap between bench and bedside," something not an MD or PhD can do alone.
After traveling the country interviewing with top programs, AJ was attracted to the UC MSTP because of its close relationship with Cincinnati Children's hospital, one of the top pediatric institutions in the country and the breadth of research opportunities available within the Molecular & Developmental Biology graduate program.
As the Whitsett Fellow, AJ will join the Molecular and Developmental Biology program for his PhD work. Throughout his tenure in the program, he will be mentored by renowned physician scientist, Jeffrey Whitsett, MD. For AJ, "Dr. Whitsett is the ideal physician scientist, and his research has saved the lives of many neonatal patients. I definitely hope that my work will someday be just as important and helpful to the world as his is."
Courtney Linne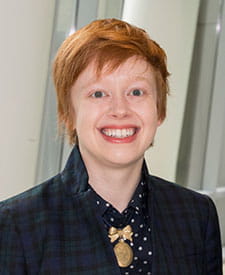 While Courtney Linne was an undergraduate student at Washington University in St. Louis, she spent a summer working in the Children's Hospital Lab of Dr. Robert Hufnagel, a graduate of the University of Cincinnati MSTP Program. There, Courtney was introduced to the concept of translational research.
Dr. Hufnagel conducts research on genetic eye disorders and, during Courtney's time in his lab, was working to develop diagnoses for patients in the Children's Eye Genetics Clinic. Through this experience, Courtney came to realize that she would derive the greatest professional satisfaction in the pursuit of medical research and then applying that research for the benefit of actual pediatric patients. This, of course, would require dual degrees – a PhD and a medical degree.
This experience, together with other shadowing experiences and research internships at Cincinnati Children's Hospital, spanning high school and college, convinced her to apply to the University of Cincinnati/Cincinnati Children's Hospital MSTP Program to pursue her dream of combining research and medicine to treat pediatric patients. When Courtney interviewed with the UC MSTP Program, she found researchers who were passionate about their research into cutting edge topics, convincing her to become a member of the MSTP and accept the 2017 Whitsett Fellowship.
This unique fellowship allows MSTP students to receive mentoring from renowned pediatric pulmonary biology researcher Dr. Jeffrey Whitsett. Courtney believes her education in the MSTP Program has been broadened and enhanced by her involvement in the Whitsett Fellowship.