Somewhere to Turn

Cincinnati Children's Strengthens Commitment to Mental Health Services 
Sam Potter credits Cincinnati Children's with saving her life. As an inpatient of the Division of Child and Adolescent Psychiatry at our College Hill Campus, Sam learned the skills she needed to navigate through her life while coping with depression and post-traumatic stress disorder (PTSD). 
In 2008, Sam lost her dad, Rob, to suicide. Two years after that tragedy, she found herself struggling with thoughts of harming herself. That's when her mother, Tammi, and her grandmother, Stephanie, brought Sam to Cincinnati Children's for help. 
Meeting a Vital Need  
Kids like Sam are the reason Cincinnati Children's is expanding its mental health services in a time when many organizations are reducing or eliminating their resources. According to the Substance Abuse and Mental Health Services Administration, the United States has about 25 percent of the child psychiatrists it actually needs. 
This lack of access to specialized mental healthcare is life-threatening. Undiagnosed and untreated mental illness can result in isolation, self-harm, violent behavior and even suicide. That's why Cincinnati Children's is committed to addressing the mental health needs of children in our community and helping children thrive while managing their conditions. In fact, a quarter of the beds at Cincinnati Children's are dedicated to psychiatric care. 
"Cincinnati Children's has a long-standing commitment to providing mental health services to kids regardless of cost, because it's the right thing to do for the children in our community," says Michael Sorter, MD, director of the Division of Child and Adolescent Psychiatry. "There is a desperate need for mental healthcare for children and teens here, and we're offering the only pediatric residential treatment facility in the area." 
Ten Years of Making a Difference  
In 2003, a gift from the Convalescent Hospital for Children endowment fund helped Cincinnati Children's establish a modern pediatric mental health facility in College Hill. At the time, it was one of a few psychiatric treatment centers for children in the area. Ten years later, it is the largest of any children's hospital in the country. 
The College Hill Campus serves as a home, a school and a supportive community to nearly 2,100 patients each year. Yet, this is only a fraction of the kids in the area who need mental health resources. To address this critical need, Cincinnati Children's is expanding services and space at the College Hill Campus – including offering diverse, experiential therapies such as horticulture, animal care, equine therapy and music and art programs. 
"For many kids participating in the expanded therapy programs, it's the first time they've been given responsibility for something," says Sorter. "They can care for a tomato plant, harvest its fruit and share it with others. They learn not only how to care for another living thing, but how to have healthy social interactions and a taste of responsibility. It gives kids a tangible, productive experience to build on – and that's invaluable." 
The College Hill Campus provides a centralized location dedicated to pediatric mental health services, including outpatient visits, short inpatient stays and longer residential stays. But, sometimes, kids and families struggling with depression and thoughts of suicide need mental health resources to meet them where they live. With the Surviving the Teens program, Cincinnati Children's takes information and support out to the community to help teens in need. 
Surviving the Teens  
Being a teenager can be overwhelming, especially if you're a teen who battles mental illness. With suicide ranking as the third leading cause of death for 15- to 24-year-olds, Cincinnati Children's knew we had to do more – and Surviving the Teens was born. 
Designed by Cathy Strunk, MSN, RN, to help predict and prevent suicide, the program gives adolescents, their families and school officials resources and support to help recognize signs of self-harm and precursors to suicide – and gives them tools to help at-risk teens. 
"Surviving the Teens gives kids a way to reach out for help," Sorter explains. "If they know there is help to be had, they will be less likely to commit suicide." 
Nancy Miller knows all too well the devastating effects of suicide. She lost her husband, Jim, to suicide, and she was determined that his death would not be in vain. 
Nancy began the Warrior Run: The Race for Life, a 5K fundraiser and 1-mile walk to honor Jim's memory and support the Surviving the Teens program at Cincinnati Children's. 
"Jim was dedicated to helping kids in the community. That's why we support Surviving the Teens through the Warrior Run each year. It not only helps families avoid the tragedy I experienced, but it's the perfect way to honor Jim's memory," Nancy says. 
A Vibrant Future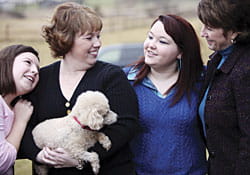 Thanks to her time at College Hill and ongoing therapy, Sam Potter is thriving. 
"The counselors and staff at College Hill saved my life," Sam declares. "They helped me understand that I have a bright future. They told me I could be the first female president of the United States, but I want something bigger. I want to be the CEO of Cincinnati Children's," Sam says, laughing. 
But it wasn't just the staff at College Hill that helped Sam. During her treatment, she saw how other patients were working through their conditions, and it helped her realize two things – she wasn't alone and she wanted to help kids like her. 
Today, Sam is the face of Rob's Kids, a foundation established by her family in memory of her father. She is a vocal and visible advocate for suicide prevention and teens coping with mental illness. 
Through Rob's Kids, Sam and her family raise money and awareness to help kids get the mental health help they need. From toy drives for patients at College Hill to participating in Cincinnati Walks for Kids, the medical center's largest annual fundraising event, Rob's Kids provides vital philanthropic support to the psychiatry division of Cincinnati Children's. 
"Without Cincinnati Children's, I wouldn't be here today," says Sam. "I want to help make sure that College Hill is always there for families. I want kids to know there is hope."