CuSTOM Accelerator: Our Model of Translation
Innovation is often represented as a linear process or funnel that culminates in the launch of a new product. We believe that in order to have a long-lasting impact in the world, the innovation process should be seen as a cycle that initiates with unmet clinical need and culminates with the creation of a higher standard of care, awaiting new medical insights and innovations for further enhancement.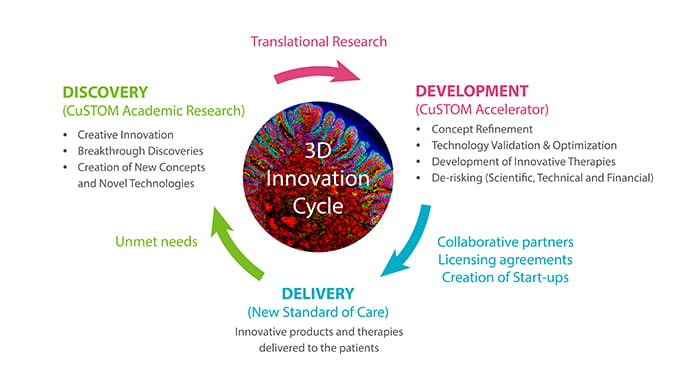 Our 3D (Discovery, Development, Delivery) Innovation Cycle starts with a creative idea or breakthrough technology discovered by our CuSTOM academic research teams, which have potential to improve treatment of diseases, health outcomes or the quality of patients' lives.
At the CuSTOM Accelerator, our staff with product, clinical and business development experience further refine, validate, assess and reduce risk of these technologies through multifaceted collaborations with academic and industry partners.
These patient-centric development efforts lead to dissemination of the new products and therapies to a wide range of patients through commercialization, resulting in a new standard of care.
Learn more about our basic research programs.
Learn more about our major areas of acceleration.