Antibodies such as IgG, IgE and IgA are important for normal host immune responses in serum and the mucosa. We are studying the molecular basis for antibody-mediated activation of immune receptors, inhibition of IgE-mediated anaphylaxis, and formation of immune complexes in autoimmune disease. These studies use a combination of biophysical and crystallographic techniques to study the structure of antibody:receptor complexes and to measure their affinity, stoichiometry, and kinetics of interaction. We are particularly interested in studying the formation of large pathological immune complexes by IgA1 and IgG in autoimmune diseases such as IgA nephropathy (Nature 2003; JASN 2011; Biochemistry 2008, 2010) and cryoglobulinemia (Nature 2015).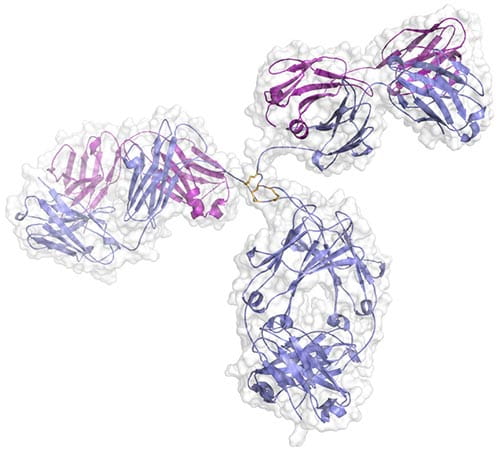 Crystal structure of a human IgG1 antibody. We are collaborating with Fred Finkelman and Rick Strait to study the differential role of antibody subtypes on autoimmune disease. Our groups recently showed that mouse IgG1 (analogous to human IgG4) plays a protective role in a mouse model of cryoglobulinemia (Strait, Nature 2015).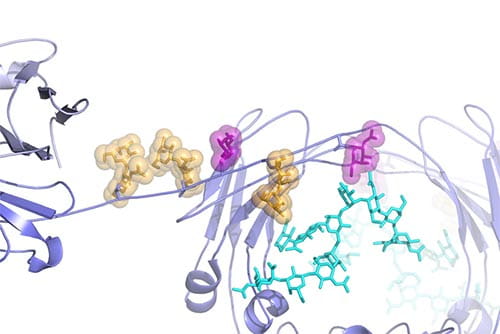 Structural model of the O-glycosylated hinge region of human IgA1 (Suzuki, JASN 2011; Herr, Nature 2003).  Anti-glycan autoantibodies recognize undergalactosylated O-glycans in the IgA1 hinge to form immune complexes that become trapped in the mesangial region of the glomerulus, the filtration unit within the kidney. Deposition of these pathologic immune complexes eventually lead to end-stage renal disease in patients with IgA nephropathy.