The aim of this project is to identify vascular progenitor cells and determine the molecular mechanisms that control formation of pulmonary vasculature during embryonic and postnatal lung development. Our ultimate goal is to develop new treatments for patients with congenital and acquired lung vascular disorders. Alveolar capillary dysplasia with misalignment of pulmonary veins (ACD/MPV) is a lethal congenital disorder of neonates and infants, which is characterized by severe defects in development of pulmonary capillaries, hypoxemia, lung hypoplasia and structural abnormalities of the genitourinary, gastrointestinal and cardiovascular systems. Due to the severity of developmental defects and progressive respiratory insufficiency in ACD/MPV infants, survival after the first month of birth is rare. While genetic factors associated with ACD/MPV are not fully characterized, heterozygous deletions and point mutations in the forkhead box F1 (FOXF1) gene locus account for approximately 40% of ACD/MPV cases.
My laboratory is investigating molecular mechanisms whereby FOXF1 transcription factor promotes the development of pulmonary vasculature. We are also interested in other members of forkhead box (FOX) family, such as FOXM1 and FOXF2, and their role in lung development and stem cell maintenance. We use unique transgenic and knockout mouse models developed in our laboratory, as well as in vitro cultures and lung tissues from patients with pediatric lung vascular disorders to determine signaling mechanisms and transcriptional networks critical for proliferation, differentiation and migration of endothelial cells during pulmonary vascular development.
Grant Support:
R01 HL084151 (PI: Kalinichenko, V.)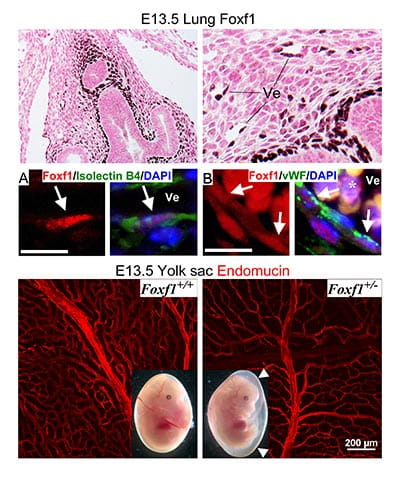 Foxf1 transcription factor is expressed in pulmonary mesenchyme and endothelial cells. Foxf1 deficiency disrupts formation of the capillary network in mouse embryos.