Patient and Family Resources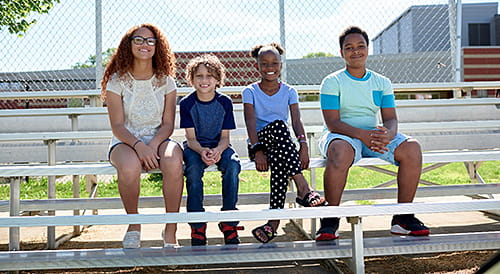 The Environmental Health and Lead Clinic at Cincinnati Children's offers information and resources about lead exposure, mold exposure and per- and polyfluoroalkyl substance (PFAS – "Forever Chemical") exposure.
Lead Exposure
Key Points
There is no safe level for lead.
80% of children in Ohio are exposed to lead through deteriorating house paint in homes built before 1978.
Preventing lead exposure is possible.
Lead is a metal that is naturally found in the Earth's crust. The toxicity of lead was first described by the ancient Greek physician Nicander over 2,000 years ago. Over the centuries, lead has been used in paint, plumbing, gasoline, ammunition, and in many industries. The CDC reports that over 500,000 children in the United States have lead levels above 5 micrograms/deciliter, the public health reference level. Research done at Cincinnati Children's has shown that there is no safe level for lead, so the Environmental Health and Lead Clinic focuses on helping families detect and eliminate sources of lead in their environment.
What Causes Lead Poisoning?
Most children become lead poisoned through eating lead. Common sources are:
Deteriorating housing paint in homes built before 1978
Soil contaminated with lead through prior use of leaded gasoline
Drinking water from homes with lead service lines or lead-containing indoor plumbing
Consuming certain imported spices, seasonings or using some imported cultural powders
Parents who accidentally bring home lead from work (construction workers, industrial work, mechanics)
Who Is Affected by Lead Exposure?
Although both children and adults can be affected, children are more sensitive to lead because their bodies and brains are growing. Through normal play and oral behaviors, children put things in their mouths. Children absorb lead much more easily than adults because they are growing. That is why the State of Ohio requires lead testing for children who:
Live or visit homes in a high-risk zip code (with many houses built before 1978)
Are insured by Medicaid
What Are Symptoms of Lead Poisoning?
Only children with extremely high lead levels have symptoms (headaches, stomach aches, irritability, constipation); luckily this is rare. The Environmental Health and Lead Clinic cares for children with extremely high lead levels, but like high blood pressure in adults, most children with lead poisoning have no symptoms. Despite this, lead can still silently exert its negative effects. Research done at Cincinnati Children's has demonstrated early life lead exposure increases the risk for:
Decreased IQ
Behavioral problems such as ADHD
School problems
Change in brain structure and function
Incarceration as an adult
How Is Lead Poisoning Diagnosed?
Lead poisoning is diagnosed with a blood test. Treatment depends on the lead level and the source of exposure. The most important treatment is to identify and stop the exposure. This may mean working with your local health department. Once it is known that a child has a high lead level, it is important to work with your clinicians regarding your child's overall health, such as maintaining an adequate iron intake, eating a healthy diet, supporting your child's development, and addressing any developmental or behavioral concerns as they occur. The Environmental Health and Lead Clinic can help families through the medical and social aspects of lead exposure.
Resources
Video: How to Prevent Lead Poisoning in Children
Español: Niños sin plomo
Health Library: Learn more about lead poisoning
COVID-19 Safe and Healthy at Home – 5 Ways to Protect Your Family from Lead at Home

Ohio Chapter, American Academy of Pediatrics, Lead Free Ohio
Hamilton County Public Health
Ohio Department of Health
City of Cincinnati Health Department
U.S. Environmental Protection Agency

Centers for Disease Control and Prevention

Mold Exposure
Key Points
Mold exposure is common.
The most common symptoms are irritation of the eyes, nose, throat or lungs.
Reducing humidity can help reduce mold in the home.
Due to nearly year-round high humidity, children in Cincinnati are often exposed to indoor and outdoor mold. We are exposed to mold through breathing in air contaminated with mold or by touching items that have mold growing on them. Children exposed to mold can experience irritation of the eyes, nose, throat, or lungs and sometimes other symptoms. Mold can also increase the risk for upper respiratory infections or asthma. Mold only requires moisture and a source of food (paper, wood, items that contain carbon) to grow. The Environmental Health and Lead Clinic has been involved with research regarding indoor mold and bacteria. We work closely with the Asthma Center and Allergy Clinics to develop treatment plans for children exposed to mold. We have helped families get connected with resources to investigate and eliminate excessive mold. Be careful, some of the chemicals used to get rid of mold, if not used properly, can cause problems too.
Resources
City of Cincinnati Health Department Healthy Homes Program
Ohio Department of Health Healthy Homes
Per- and Polyfluoroalkyl Substance (PFAS – "Forever Chemical") Exposure
Per- and polyfluoroalkyl substances (PFAS) are a family of over 7,000 chemicals that are used as non-stick coatings, aqueous firefighting foams, as well as many of other uses. These chemicals are very difficult to break down in the environment or in our bodies, so they are sometimes called "forever chemicals." Due to legacy pollution of the Ohio River, Cincinnati has been an important area for PFAS exposure. Research done at the University of Cincinnati and Cincinnati Children's has highlighted the possible health concerns related to exposure to these chemicals. The State of Ohio recently required testing of drinking water systems for PFAS. This information is available online. The Environmental Health and Lead Clinic can help families put these results into context and recommend steps to take to monitor for health problems.
Resources
Ohio Department of Health and Ohio EPA PFAS information
Agency for Toxic Substances and Disease Registry PFAS information