Planned Gift Benefits ENT Care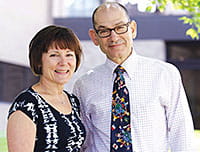 When Charles Myer III, MD, joined Cincinnati Children's as a resident in 1979, he never could have imagined how much the medical center would grow and the impact it would make on children and families here in Cincinnati and around the world.
"There were just about 1,000 employees at the hospital at the time," Myer says. "My office was in the old hospital, and it was about a 26-second walk from the car to my office."
While it now takes Myer a little longer to get from the parking lot to his office, he's proud to be part of a world-class organization like Cincinnati Children's. His division, otolaryngology (ear, nose and throat – ENT), has grown exponentially over his 36-year tenure and is nationally renowned for its expertise.
And it's important to Myer and his wife, Ginny, for that growth to continue – that's why they have created a planned gift, through a life insurance policy, that will benefit the medical center once they have passed.
"I think it's really important to improve things for the next generation," Ginny says. "That's one of the reasons we are leaving this gift – we want it to be used to help future generations of otolaryngologists."
The couple hopes their legacy will help touch the lives of future fellows and faculty in this division, as well as the lives of children in need of specialized ENT care in Cincinnati and beyond.
"It's important to Ginny and me that we give to the organization that has given so much to the care of children," Myer says. "The growth I've seen during my time here just continues, and I'm excited to see where future generations can take us."