Partnership Matters
Generous donors help pave the way for leading-edge research and innovative treatments.
Fifth Third Foundation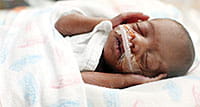 One of the region's most well-known and respected financial institutions, Fifth Third has supported the mission of Cincinnati Children's since the early 1970s. From leukemia research to pediatric hospice care to our International Adoption Clinic, Fifth Third has touched the lives of many families in our community and beyond.
Recently, the Fifth Third Foundation made a generous investment in Cincinnati Children's valued at more than $1 million. The gift will support research, including a focus on our efforts to reduce premature birth – both in our region and beyond – helping our experts provide every baby with the best start possible and a better chance for a long, healthy life.
Kevin Kabat
As Vice Chairman and CEO of Fifth Third, Kevin Kabat already appreciates the impact that Cincinnati Children's has on his employees, our community and beyond.
To help us realize our vision of being the leader in improving child health, Kevin has volunteered to serve as co-chair of the medical center's largest comprehensive campaign. The Change the Outcome Campaign will support important initiatives that will help kids right here in Cincinnati, across the country and around the world achieve optimal health.
Tom Cody (left) and Kevin Kabat (center) are co-chairs of the Change the Outcome Campaign. Along with President & CEO Michael Fisher, they are leading the $250 million initiative for the medical center.
Share Your Story
If you have had an experience with Cincinnati Children's, we invite you to share your story.