Making Cincinnati Safer and Healthier
At 10 months old, Kyriel is a vivacious, curious baby who is a bit of a wiggler when she no longer wants to be held. Her mom, Teare, sits her gently on the floor, but in no time, Kyriel is tugging on her mom and pulling herself up to stand. She wobbles for a moment, grins at being on her feet, and then she is on the move.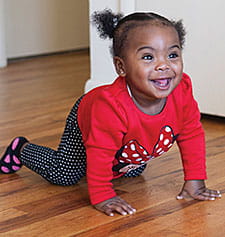 "She never stops," Teare smiles. "Once she really starts walking, it's going to be hard to keep up with her." 
For babies like Kyriel, entering the toddler stage marks the beginning of rapid development in both motor skills and brain growth. As exciting as it is to watch your child learn to walk and run, it also means parents have a new host of reasons to worry. 
From climbing stairs to pulling open cabinets, toddlers have no concept of danger or safety, which means parents have to be on high alert. 
"More than 50 percent of hospital visits for children under 5 are due to preventable injuries in their own homes," says Richard Falcone, MD, MPH, director of Trauma Services at Cincinnati Children's. "Preventable injuries cause more childhood deaths than all diseases combined." 
That's why Cincinnati Children's made injury prevention a key part of our 2015 strategic plan. Our goal is to reduce unintentional injuries (including those due to motor vehicle accidents and poisoning) in the Greater Cincinnati region by 30 percent. 
This work began in our Comprehensive Children's Injury Center (CCIC), where we studied how and why injuries occur. And the results were surprising. Contrary to the common belief that childhood injuries are random accidents, Cincinnati Children's found that injury is similar to any other disease – it follows a predictable pattern. 
So, our physicians and researchers asked: If many of these accidents can be predicted, what can we do to prevent them? 
Making Homes Safer
Because childhood injuries follow a pattern similar to disease, our experts approached prevention the same way they would for a disease. While it's not possible to vaccinate for injuries, it is possible to reduce them by simple prevention measures. Installing safety gates, cabinet locks, carbon monoxide and smoke detectors, and outlet covers are all proven ways to make homes safer for kids. 
"One thing became clear right off the bat," Falcone says. "We needed to reach families in their homes, where the changes needed to happen." 
Our experts in the CCIC started with a small pilot project in the Norwood neighborhood of Cincinnati that implemented school and community-based projects to promote safety. Called Preventing Injury in Norwood (PIN), the program combined the expertise of Cincinnati Children's, community agencies and community leaders to create low-cost, community-based interventions for home safety outreach. 
PIN launched Neighborhood Safety Days that educated community members about unintentional injuries and engaged families in injury prevention practices. The Safety Days also allowed CCIC and community volunteers to connect with high-risk families and provide them with home safety equipment, installed by community members and PIN volunteers. 
The result was amazing. "We've seen a significant decrease in injuries in the homes we have reached with our home safety bundle," Falcone says. "We're showing that this kind of intervention saves lives." 
Building on the success of PIN, and honoring the commitment of a longtime partner, the CCIC renamed the program Kohl's Building Safety on Your Block (BSOYB) and expanded it to reach other identified high-risk neighborhoods, like Lincoln Heights, Avondale, Price Hill and Over-the-Rhine. 
It was through one of the safety presentations by the CCIC that Teare learned about BSOYB in her neighborhood. 
"I knew Kyriel was going to start walking soon and that meant she'd be getting into more and more stuff," Teare says. "I wanted to learn how to make our home safer and keep her from getting hurt, so I called Cincinnati Children's." 
Because Kyriel is younger than 5 years old and lives in one of the eligible neighborhoods, Teare was able to receive an evaluation and a home safety installation visit. And, today, her home is much safer for Kyriel.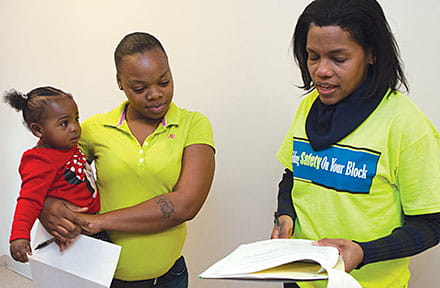 Teare learns how to keep 10-month-old Kyriel safe with help from Cincinnati Children's and Kimberly Price, PhD, a Kohl's Building Safety On Your Block volunteer.
Personal Connections Make the Difference
The team from Cincinnati Children's, including Injury Prevention Coordinator, Kimberly Price, PhD, CHES, CPST, installed safety equipment, ranging from a carbon monoxide detector to a safety gate, and walked with Teare around her home pointing out potential hazards. They also educated Teare on proper car seat installation and safety. 
"Doing this individually, home by home, is a slow process," Price says. "But this personalized approach is more effective and ensures that safety materials are installed and properly utilized. We found that just giving families the equipment wasn't enough." 
Moreover, having BSOYB volunteers come to the participating homes and install the equipment helps establish a personal connection. It gives families a chance to talk with an expert about home safety and helps them feel more involved and invested in the process of making their home safer. 
Partnership Makes It Possible
Providing safety equipment to each of the participating homes is made possible through support from Kohl's customers through Kohl's Cares for Kids. Kohl's funds the program, and other safety initiatives across the country, by selling kid-friendly items like stuffed animals and books. For every item sold, Kohl's donates 100 percent of the proceeds to a local partner, like Cincinnati Children's.
Kohl's has partnered with the medical center on the CCIC's safety initiatives since 2001 – supporting both the PIN and BSOYB programs. They have invested more than $2.4 million in Cincinnati Children's to prevent injury, making homes safer for kids in Cincinnati. 
"Kohl's partnership enables us to reduce and prevent injury in the most effective way – family to family," Falcone says. "Installing safety equipment and educating parents one-on-one is working, helping us to reach our goal of making kids in Cincinnati the safest in the nation."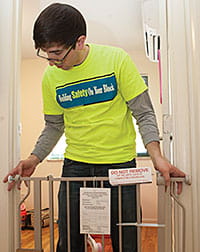 BSOYB volunteer Patrick Edmunds installs a baby gate to help keep Kyriel safe.