The Early Prediction Study is a research study in very preterm infants (prospective cohort) to identify early markers, soon after preterm birth, of neurodevelopmental disabilities such as cerebral palsy and cognitive deficits using advanced modes of brain MRI (magnetic resonance imaging) and sophisticated statistical modeling.
Another important goal is to improve our understanding of the causes of common brain injuries and delayed brain development typically observed in very premature infants. Advancement of our goals is expected to result in improved methods to prevent development of brain injuries and administration of targeted, aggressive Early Intervention therapies soon after birth – during periods of optimal neuroplasticity – to reduce the incidence and burden of developmental disabilities.

The study was initiated in September 2016. Our goal is to recruit and study 350 very preterm infants. Eligible very preterm infants (born between 22 and 32 weeks gestational age) will be approached for consent once stable after 32 weeks corrected age from one of four Southeast Ohio NICUs: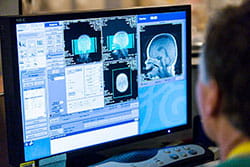 MRI console where brain images can be viewed in real-time while the baby is being scanned.
Cincinnati Children's Hospital Medical Center, a level IV NICU and the main referral site for southeast Ohio, Kentucky, and Indiana
University of Cincinnati Medical Center, a level III NICU and referral site for high-risk pregnancies
Good Samaritan Hospital, a level III community NICU and major teaching site for the Cincinnati Children's Perinatal Institute
St. Elizabeth Healthcare, a level III NICU in Edgewood, Kentucky
Kettering Health - Main Campus, a level III NICU in Dayton, Ohio
All consented infants will be imaged with structural, diffusion, and functional MRI at the age the preterm infant would have been born if carried to term (term corrected age). All MRI results are shared with the family and counseling is provided. We will then follow the infant's development at multiple time points until at least the age of three years old. Each of these tests provide opportunities for early identification of motor, cognitive, executive function, and behavioral abnormalities that are observed in 4 out of 10 very preterm infants.
Early Prediction Study Collaborators
Mekibib Altaye, PhD
Tanya Cahill, MD
Kim Cecil, PhD
Karen Harpster, PhD
Scott Holland, PhD
Beth Kline-Fath, MD
Stephanie Merhar, MD, MS
T. Michael O'Shea, MD, MPH
Leanne Tamm, PhD
Jean Tkach, PhD
Keith Yeates, PhD
Weihong Yuan, PhD
Early Prediction Study Funding
The study is funded by the following National Institutes of Health (NIH) / National Institute of Neurological Disorders and Stroke (NINDS) grants:
5R01NS094200 ( U.S. NIH Grant/Contract )
5R01NS096037 ( U.S. NIH Grant/Contract )