The 22Q-Velocardiofacial Syndrome Center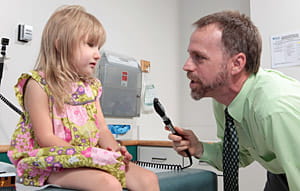 Whether you call it 22q11.2 deletion syndrome (22Q), velocardiofacial syndrome (VCFS) or DiGeorge syndrome, you have come to the right place.
Our dedicated team of healthcare professionals at Cincinnati Children's has in-depth knowledge and experience managing the condition, but we never forget that each child is unique.
The 22Q-Velocardiofacial Syndrome Clinic at Cincinnati Children's offers state-of-the-art medical treatment and interventions for patients and their families.
Our comprehensive protocols address multiple issues including healthcare and management, school readiness and mental health concerns. But protocols are just the beginning − we know that caring for children with 22Q-VCFS is never "one size fits all."
The 22Q-VCFS clinics are held at Cincinnati Children's Burnet and Mason campuses. Our doctors and dedicated case manager work closely with families and their primary healthcare providers to determine what specialists their child does (and does not) need to see.