Celebrating 90 Years of Life-Saving Discoveries
Every donor­—past, present and future—makes an impact.
We can improve health and save more lives because of the support of the many friends who invest in our research and our pursuit of bold ideas.
If we go back almost a century, we can see how one visionary donor enabled us to advance care for kids and improve child health in remarkable ways—catapulting the medical center from a small community hospital to one of the top medical and research facilities in the nation.
In 1928, William Cooper Procter, grandson of the co-founder of Procter & Gamble, gave $2.5 million—valued at nearly $40 million today—to endow our pursuit to accelerate scientific discovery and construct our Research Foundation building. When it opened three years later, Cincinnati Children's became the only hospital in the world with a research facility fully dedicated to pediatric care.
Colonel Procter believed that you can't have great care without great research. His endowment ensured dedicated resources and permanent support would be available for innovative discovery—changing the course of pediatric medicine and impacting millions of lives.
"Most people are surprised to learn that grants alone don't cover what is needed to translate research from basic science in the lab to patient care," says Tina L. Cheng, MD, MPH, the new director of our Research Foundation. "That's why we rely so much on philanthropy. Our donors are helping us keep the research part of our mission strong."
With the help of so many charitable partners along the way, we're building on Colonel Procter's legacy and improving child health—today and in the future.
Working Together to Transform Care
As a nonprofit hospital and research center, we rely on the support of many to deliver the very best care to kids and families. The generosity of those who share our vision fuels our ability to innovate life-saving treatments and uncover life-altering discoveries.
"I was excited to come here because of the unmatched commitment Cincinnati Children's has for research," says Dr. Cheng. "And that commitment is broader than just the institution itself. The community of donors plays a crucial role in helping us fund bold research ideas that are not yet eligible for government funding—bridging funding gaps and advancing the pace of innovation."
---
1950s
A Breakthrough for the Littlest Heart Patients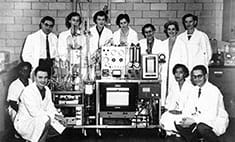 As a nonprofit hospital and research center, we rely on the support of many to deliver the very best care to kids and families. The generosity of those who share our vision fuels our ability to innovate life-saving treatments and uncover life-altering discoveries.
---
1960s
Vaccine Discovery Saves Countless Lives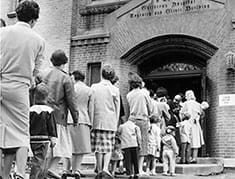 As a nonprofit hospital and research center, we rely on the support of many to deliver the very best care to kids and families. The generosity of those who share our vision fuels our ability to innovate life-saving treatments and uncover life-altering discoveries.
---
1970s
New Procedure Changes the Course of Care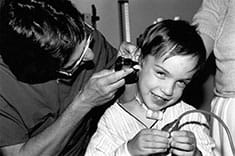 Robin Cotton, MD, changed the trajectory of airway care when he developed a tracheal reconstruction procedure that saved children from a lifetime of dependence on a tracheotomy tube—allowing them to breathe on their own.
Dr. Cotton's new procedure became the standard of care for kids with airway disorders and helped establish the medical center as a destination for helping children with serious and life-threatening conditions.
---
1980s
A Crucial Discovery for Our Most Fragile Patients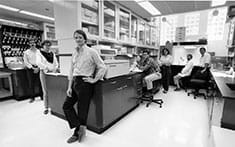 Jeffrey Whitsett, MD, and Timothy Weaver, PhD, revolutionized care for premature babies by developing artificial surfactant—a liquid made by the lungs that keeps airways open.
Since its widespread introduction in 1989, this breakthrough has saved an estimated 2,000 lives a year in the United States and countless more worldwide.
---
2000s
Saving Lives Around the World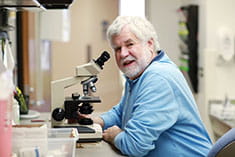 More than 20 years of research led by Richard Ward, PhD, and David Bernstein, MD, fueled the development of Rotarix. This oral vaccine prevents rotavirus—a leading cause of death in infants and children around the world.
Everywhere the vaccine has been widely distributed, deaths and hospitalizations from this common childhood killer have plummeted, and the medical center continues to serve as one of the nation's leading vaccine research centers.
---
2010s
Improving the Quality of Life for Kids with Sickle Cell Disease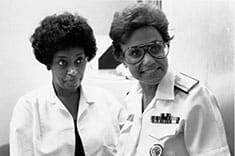 Building on the pioneering spirit of Marilyn Gaston, MD, who established our Comprehensive Sickle Cell Center, Russell Ware, MD, PhD, and a team of investigators discovered a breakthrough treatment for the chronic blood disease.
During a multi-national clinical trial, they found that treating kids with a drug called hydroxyurea—normally used in patients with cancer—dramatically improves the quality life of kids living with the disease. They have fewer pain crises, fewer trips to the hospital and don't need as many blood transfusions.
Safer, More Effective Treatment for Kids with Cancer
Our Proton Therapy Center provides one of the most advanced, precise and safest forms of radiation therapy available in the world today. With pencil-thin beam precision, we're able to provide targeted radiation therapy to a tumor's exact location, eradicating cancer cells while minimizing damage to surrounding healthy tissues.
And our center is the only one with a dedicated research space—enabling us to continue innovating and improving care for kids here and around the world.
Detecting the Language of Suicide
With the mental health crisis plaguing our young people, suicide has risen to alarming rates. In Ohio alone, a young person takes their life every 33 hours. That's why we've strengthened our commitment and resources to address these issues through improved treatments, research and technology.
---
2020s
Customizing Care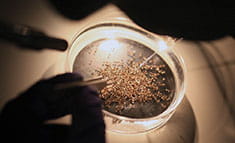 Led by Michael Helmrath, MD, James Wells, PhD, and Aaron Zorn, PhD, our team of renowned scientists developed a way to use cells from a patient's own body to generate miniature organs, known as organoids. These organoids are a revolutionary discovery that will help us understand disease, develop new personalized treatments and, ultimately, generate tissue for those who need transplants.
Our Center for Stem Cell and Organoid Medicine (CuSTOM), is home to one of the first dedicated facilities for this innovative new technology. The work being done through the center will not only improve outcomes for kids but will also transform the care—and one day lead to cures—for adult cancers, Parkinson's disease, ALS, autism, Alzheimer's and more.
Racing to Stop COVID-19
We were one of four sites in the nation to participate in clinical trials for the COVID-19 vaccine. We're also a site administering the clinical trials for the vaccine in children as young as 5 years old.
Our Rapid Adaptive Control of an Epidemic (RACE) team plays a leading role in supporting the community and regional response to the virus. With ongoing COVID-related research projects underway, the work we do will help us create a healthier future for kids.
Investing in Organoids
The Farmer Family Foundation's investment in the area of tissue engineering and regenerative medicine established our CuSTOM Accelerator Lab, enabling us to translate amazing discoveries into new therapies that can change the lives of our patients with debilitating disease and life-threatening conditions.
Their most recent gift to the medical center is a challenge grant—made to inspire the entire community to work together and benefit kids sooner.
To learn more about this work and be a part of our progress, contact James Cleetus at 513-636-1166 or james.cleetus@cchmc.org.
---
And...Our Greatest Discoveries Are Yet to Come
Over the past 90 years, each and every gift from donors has helped push the needle of progress to advance child health. The work we've achieved together for children, and will achieve in the future, happens only with the support of our partners.
Colonel Procter's forethought and generosity inspired a culture of care and discovery that enables us to work together to deliver hope and healing for kids in our community and beyond. His generous spirit lives on today as we continue collaborating with our charitable partners. That's why those who support the medical center with a gift from their estate, will or trust are recognized as members of our William Cooper Procter Legacy Society.
Every gift, no matter the size, has the potential to change a child's life for the better. As we work together to improve child health, we know that all donors are a critical part of our care team.