Online Collaboration for Complex Care
Provider telehealth, or case conferences, is a term used to describe an educational event where multiple physicians from different specialties get together to review patient cases, discuss diagnosis and treatment options, and learn from one another. This can be done in person, or using telehealth, to connect doctors from different specialties from around the world.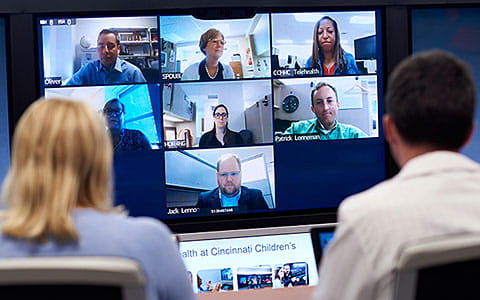 The Center for Telehealth works with a variety of providers and specialties to deliver services through partnerships between Cincinnati Children's, patients and outside institutions. We conduct over 200 different provider telehealth encounters each year.
Examples of Collaborations
Each month, physicians connect using our provider telehealth discussions surrounding patient diagnoses and treatment plan options. Recent collaborations have included adult congenital heart disease, depression, disorders of sexual differentiation and complex airway disorders.
General and Thoracic Surgery – Trauma Services
The Pediatric Trauma Transformation Collaborative (PTTC) program is designed specifically for the needs of hospitals across the country seeking to maintain and / or obtain pediatric trauma verification through the American College of Surgeons (ACS). Through this unique multi-year collaborative relationship, partnering hospitals can leverage Cincinnati Children's extensive experience and expertise as a Level I ACS verified pediatric trauma center to support their entire trauma program across the full spectrum of pediatric trauma care. Using telehealth, Cincinnati Children's trauma surgeons participate in case review, quality review, and education. Currently, this program is live at St. Mary's Hospital in Evansville, IN, Parkview Hospital in Fort Wayne, IN, and Sanford Hospital in Fargo, ND.