Improving Care for Patients Outside the Hospital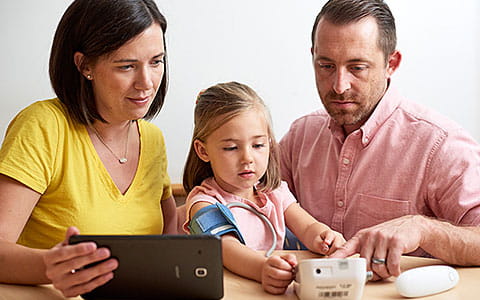 Cincinnati Children's launched its Remote Patient Monitoring (RPM) program in February 2017 with the mission to improve the outcomes and experience for patients with high-risk and chronic conditions outside the hospital walls.
Patients and families self-report health information to their care team. Vital stats including blood pressure, weight, temperature, oxygen levels and pulse are collected via Bluetooth-enabled devices and transmitted to care teams via an app on parents' phone or tablet.
Condition-specific questionnaires are collected on a scheduled basis to get feedback on a patient's current health. The data are reviewed by a team of registered nurses who partner with subspecialist providers to address any concerns. This way we can identify concerns sooner than waiting for a follow-up appointment. We also can reassure a family who just left the hospital that their child is doing well at home.
Remote Patient Monitoring currently has programs in the following areas:
Cardiology

Adult congenital heart disease high risk for heart failure
Cardiomyopathy
Cardiac tube weaning
Heart transplant
Ventricular assist device (VAD)

Complex Care
Genetics
General Pediatrics / Foster Care Clinic
Gastroenterology

Failure to thrive
Short gut non-tpn
Short gut tpn dependent

Neonatology

Feeding tube dependent
Concern for inadequate weight gain
High calorie formula dependent
Oxygen dependent

Pain

Post operation knee / shoulder repair with nerve catheter
Post operation pectus excavatum repair

Pulmonology
Nephrology
Solid Organ Transplant
The benefits of RPM include:
Increased ability for family to remain at home for things that previously required in-person visits such as weight checks
Increased family engagement in plan of care, and better adherence to treatment plans (for example, taking medications as directed)
Confidence for families learning new care for conditions, knowing the care they have to provide at home will be supported by a team of specialty trained nurses
Reduced need for emergency room visits and inpatient stays by allowing connection to care team from home and from identification of clinical changes early