Train in an Innovative Medical Education Program
The General Pediatric Master Educator Fellowship is an innovative and unique opportunity for general pediatric physicians interested in developing successful academic careers in medical education by learning the art of clinical teaching, principles of adult education and educational scholarship. This fellowship will train physicians to be master pediatric educators through a curriculum that provides a balanced educational experience in the science of education, leadership in pediatric medical education, and teaching in an environment that encompasses the issues of underserved populations.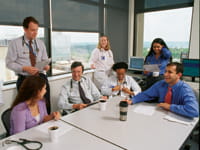 The General Pediatric Master Educator fellowship consists of two years of training and will enroll one new fellow each year. We are currently accepting applications for a position available beginning July 2019.
Goals
To prepare general pediatricians interested in academic careers in medical education through training in the science of education, educational scholarship and experiences in clinical teaching and leadership.
To provide fellows with the core competencies to develop and implement innovative curricula, utilize sound evaluation methodologies, and understand and apply adult learning theory as master medical educators
To acquire advanced skills in educational scholarship and research, academic leadership in general pediatrics, and clinical teaching excellence in the care of patients from underserved populations.
Objectives
Develop the teaching and supervisory skills of general pediatric master educator fellows through supervised participation in formal and informal teaching activities in pediatric health care settings. Fellows will learn to teach pediatric primary care to residents and medical students by functioning as teaching preceptors in HPSA-designated primary care and inpatient patient care sites with direct supervision readily available.
Provide fellows with a professional development series and mentorship to foster leadership skills. Topics will be addressed in various formats including, faculty development workshops, assigned readings with discussion, online work, including the development of an Individualized Learning Plan (ILP). The culmination of the professional development experience will be the completion of a capstone project in an area of focus including but not limited to educational innovation, underserved populations, primary care, healthcare improvement, health literacy or medical informatics and technology.
Provide Fellows with graduate training in medical education culminating a Master's Degree in Education (MEd).
Provide teaching experience in multiple outpatient and inpatient primary and general pediatric care settings that care for medically underserved patients under the supervision of senior, experienced clinician educators.
Provide a rigorous academic experience for Master Educator Fellows by creating strong mentor relationships and Scholarship Oversight Committees.
Locations
Fellows can provide care in several diverse primary care sites that all care for patients from underserved populations: